As many of you know I made and sold the adapter brackets to mount Z06 Corvette calipers on Silverado SS trucks using Baer disks.  The first batch I made was almost 8 years ago.  I made another smaller batch a few years ago.  Currently I am sold out of the adapter brackets.  I was not planning on making any more due to more than a few reasons.  For starters, all my contacts and hookups at machine shops have either moved on or changed fields.  I will no longer be able to get any discounted rates for small batches of the machine work, the raw materials, hardware or anodizing.  This means I will have to do one single large batch.  That means I will have to put out more than $10,000 to make a batch.  That is significantly more than what i paid years ago.  Now I don't have anything close to enough to sink that much money into these brackets and it will take me years before I would see a profit.  So after initially looking into it, I decided to just walk away and be done with them.  But I have had more than a few people recently persistently asking about purchasing brackets.  So I had an idea similar to go fund me.  If I could get enough people to do an initial group buy to offset the initial cost I would be willing to make up the difference and continue to offer these brackets to you guys.  Anyone that is part of the initial group buy will get a discounted price.
 
So after running the numbers, here is what I've come up with.  If at least 15 people or more are willing to pay $350 up front I will make one more run, probably the last.  I will post a list of names on this thread to keep track.  No money will be collected initially.  Just need your name for the time being.  If we get enough people I will contact everyone and send invoices through Paypal.  Everyone will have 2 weeks to pay.  After I receive all the funds, I will move forward.  If people back out after invoices have been sent I will refund everyone's money that has paid and that will be it.  I cannot promise a date when they will be ready.  It all depends on how busy the machine shops are when I bring them the work.  But from past experience it shouldn't take more than a month or two from the time all funds are collected to the brackets and hardware arriving at your door.  So if you want in on the group buy post in this thread and send me a pm with your email address so I can send the paypal invoice as soon as we get enough people.
 
Im still working on finding better prices for raw materials and hardware but Ive had several people asking about how much will brackets be for the group by and after. So tentatively this is what I came up with but it may change.

Group buy price
Front and rear $350
Front only $225
Rear only $175

After group buy price
Front and rear $400
Front only $250
Rear only $200
 
Here is a link to the How-to I wrote for anyone not familiar with this upgrade.
http://www.silverado...ake-conversion/

You can also contact me at [email protected] if you are not a member here. But I would highly suggest joining so you can be part of the forum/community. There are a lot of really good guys on here with a lot of helpful knowledge.

1. bbb455- front- PAID
2. HotRodV6- front and rear
3. Downeast Johnny- front and rear- PAID
4. 121DOC- front and rear- PAID
5. Cody S- front- PAID
6. Rodrigo R- front and rear- PAID
7. Jagpreet S- front and rear- PAID
8. Steven L- front- PAID
9. Justagoose- front and rear- PAID
10. wyopoke1- front and rear
11. oldnash- front- PAID
12. toxic donkey- front and rear
13. ejb2316- front and rear- PAID
14. Robert T- front only- PAID
15. Jorge C- front and rear
16. 2drchevyss- front and rear- PAID
17. Hellfish- front and rear- PAID
18. Jared N- front and rear- PAID
19. James W- front only- PAID
20. Mitch M 2 sets front and rear- PAID
21. Douglas S front and rear- Paid
22. Christopher S
23. Trizney- front and rear- PAID
24. Zachary H- front- PAID
25. Ryan S- front and rear- PAID
Ok gentleman. Looks like we have enough people if everyone follows through. I will still add people that want to be included until I place the order with the machine shop.

I will give them a call this week and see what their schedule looks like. Sorry I havent been on here sooner. Ive been slammed at work doing 16 hour days. Ive felt like a zombie the last week. Hopefully things slow down.

Update 6-18
Machine shop is still backed up and busy. Looks like another. Week or so. Ill update when I have more info.

Update 6-20
Ok ladies and gentleman. Just put in my order for raw materials this morning. It is officially happening. In the next few days I will be sending out info to each person and then invoices. Even if youve already sent it, please send me your email again. The machine shop will start on these next week. Then off to get anodized. Should have them ready to ship by mid July.
 
Update 7-5-16
I won't bore you with the details, but there were a few delays.  Good news is that the brackets will be done today and dropped of at the plating shop tomorrow.  Almost all the hardware is scheduled to arrive tomorrow.  The last of it scheduled for Monday.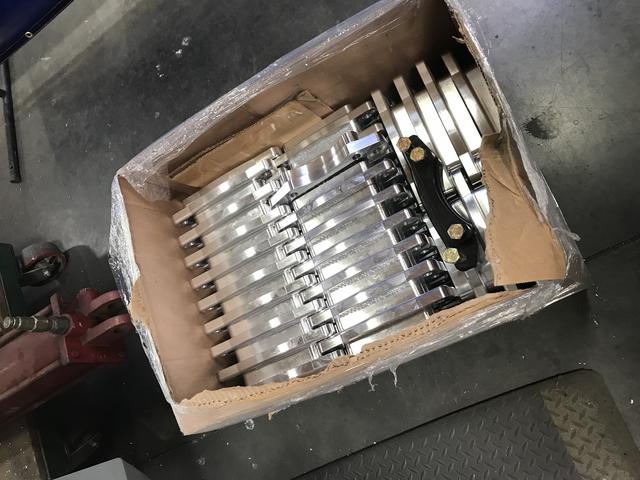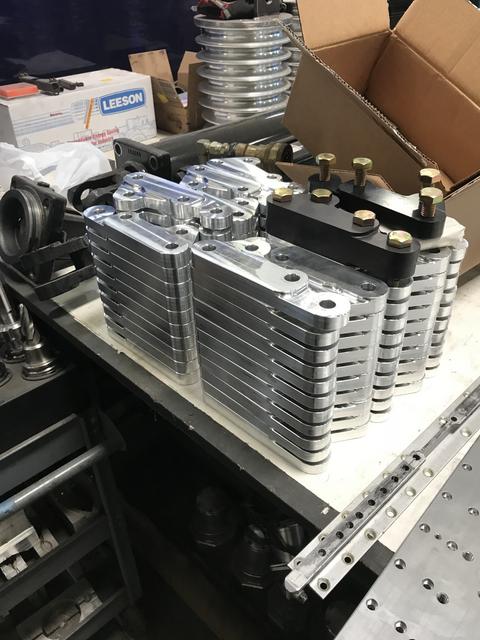 Update 7-12-18
Brackets were dropped off on Monday.  I was told they would be ready by Friday.  If they are, I will begin shipping them out this Sat.
Edited by rudy91040, 13 July 2018 - 01:18 AM.