So I recently did a Morimoto HID retrofit in my HD so i figured I would do a little write up on what exactly I did and show you the problems I had trying to get this to work properly.
You will need:
Bi-Xenon Retrofit Kit
 
A Dremel
 
Disposable gloves
 
Silicone sealant (may not be used, but would be good to have just in case)
 
Screw Drivers (one small, and at least one medium), or a butter knife can also work
 
Needle nose pliers
 
A 27mm socket (may not be 100% necessary, you will see why i used it)
 
Patients
 
A Cold Beer of your choice (or something stronger if need be)
 
A word of caution: You will be doing some major modifications to your headlight housing, and you wont be able to return them back to stock. Lots of people buy aftermarket headlights before they start this process, but that can also lead to problems (which you will see later). I happened to already have a set of aftermarket clear headlights and I also had my stock headlights. I ran into some issues and the process took me longer than I thought. Luckily I do not drive my truck a whole lot, and I have my stock headlights. So I was able to put the stockers back in. 
If everything goes well this process should only take you a few hours.
I purchased the universal Bi-Xenon Morimoto Mini Stage III (H1) kit from the Retrofit Source
http://www.theretrof...ml#.VVi7YPlViko
This kit comes with basically everything you need to install. I say almost everything because it may take some custom work in order to get it to work properly for you application. I will get to that later. There website also has basic step by steps on how to install everything. 
I searched the interwebs for hours trying to find write-ups on how to do a retrofit in an 03-06 Silverado, but most of the walk thoughts are for the NNBS trucks which are a million times easier. I found this write up on HID planet and used it as an example, but I had to deviate from what this person did because my headlights were  little different.This person did a Quad retrofit and I just did the low beams. I think all 4 is overkill. 
http://www.hidplanet...-2003-Silverado
First thing first, you have to take apart your headlights. If you do not know how to do this I know there are plenty ow write ups on this site and on the internet. But it is super simple. First you have to take the bulbs out, and turn your oven on to the lowest setting, hopefully that is around 170 degrees. Place your lights (one at a time) in the oven for about 10 min. I would not go over that. Then pull them out and you can begin the process of pulling them apart. I did this years ago and i used a butter knife to separate the headlights. This time I used a small flat head screw driver to stick under the clips the separate them, and i used a larger flat head to separate the lens from the housing. Be very careful not to break the clips or it will be a pain to get it back together again. 
Before: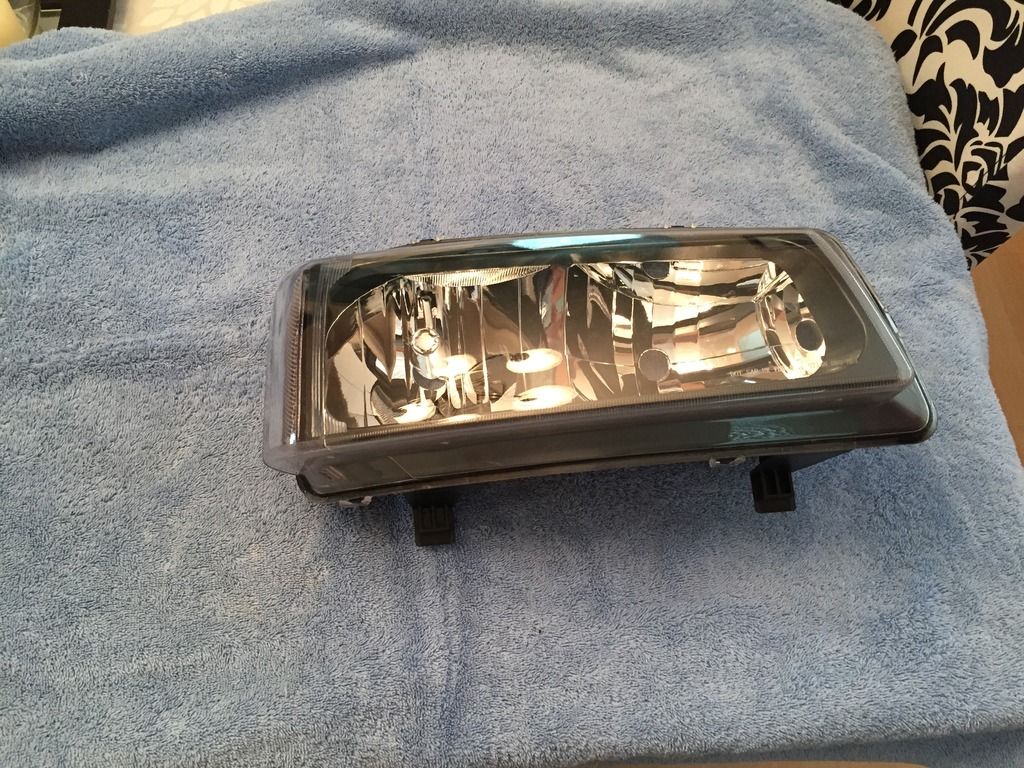 After: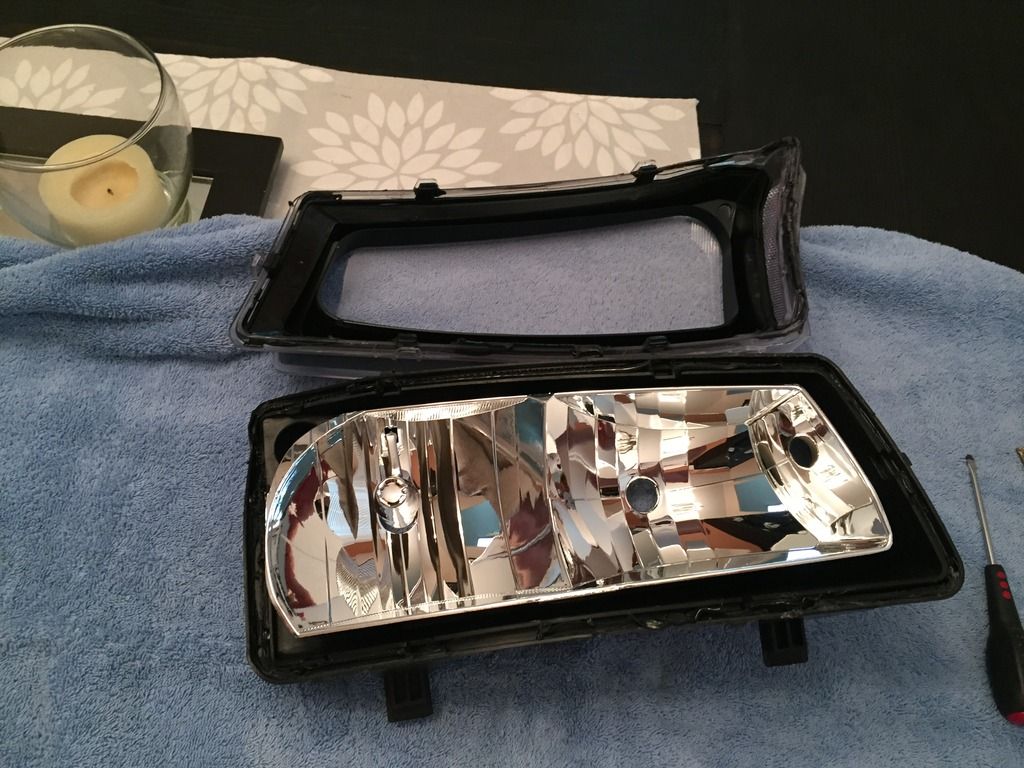 Note: I have a cheap set of ebay clear headlights and they pull apart really easy. I have been told that stock headlights are even harder to take apart. 
Also I would recommend wearing disposable gloves when working on this process. You do not want to get finger prints on the reflectors, or the projector housing.
Next you have to unscrew the 3 screws holding the plate on the back, and remove the rubber chunk from the back.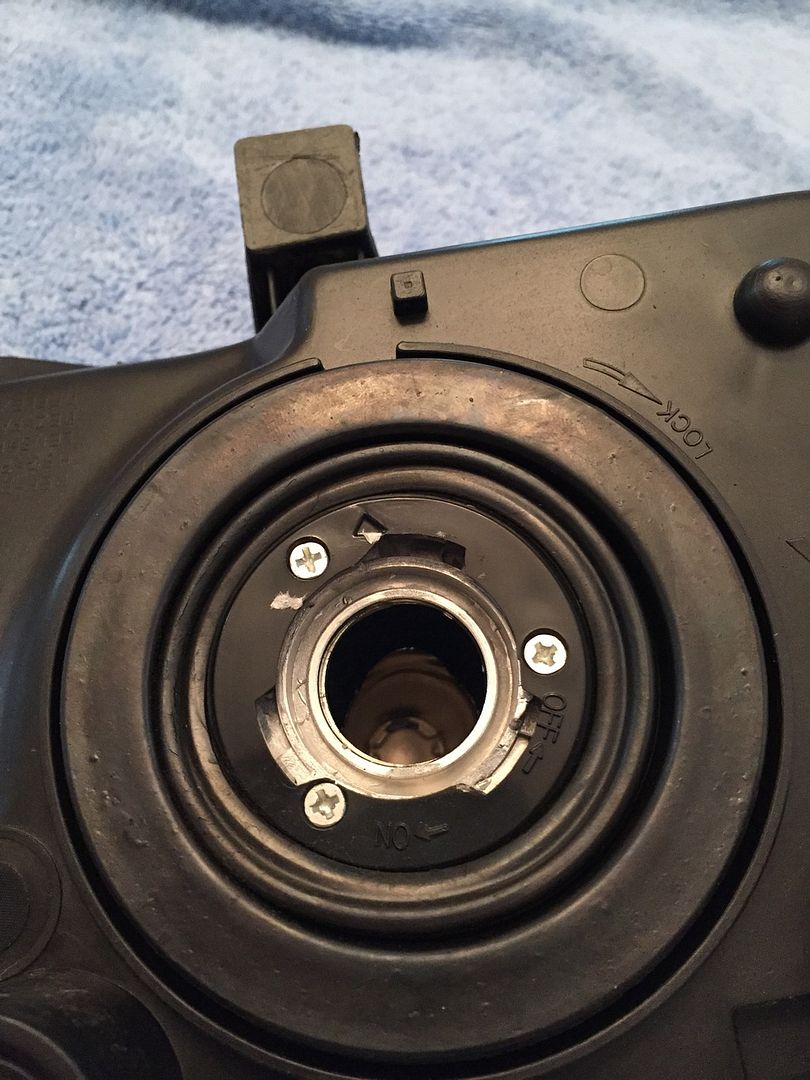 Then you want to remove the little part in the housing that helps project the light from the low beam. It is super easy. In the picture above you can see that all you have to do is reach in there with some needle nose pliers and squeeze the 2 parts together and it can be removed easily.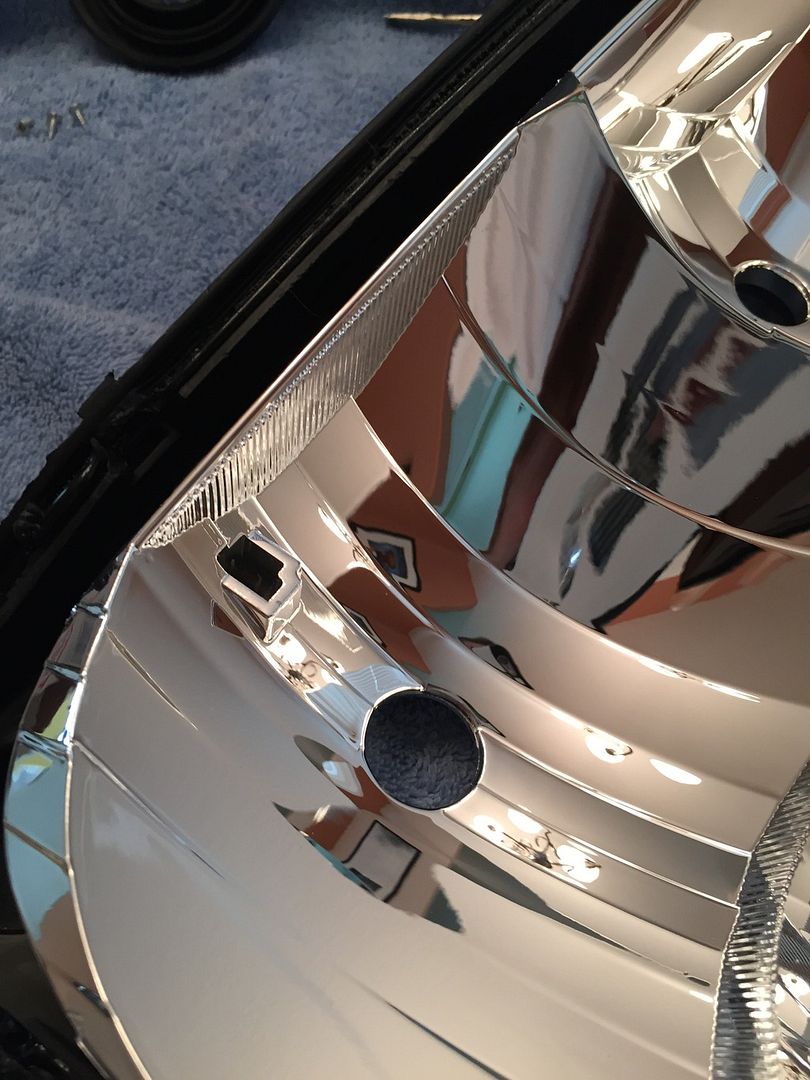 I then test fit the projector to see if it fits, as you can see it slides right into the existing hole for the low beams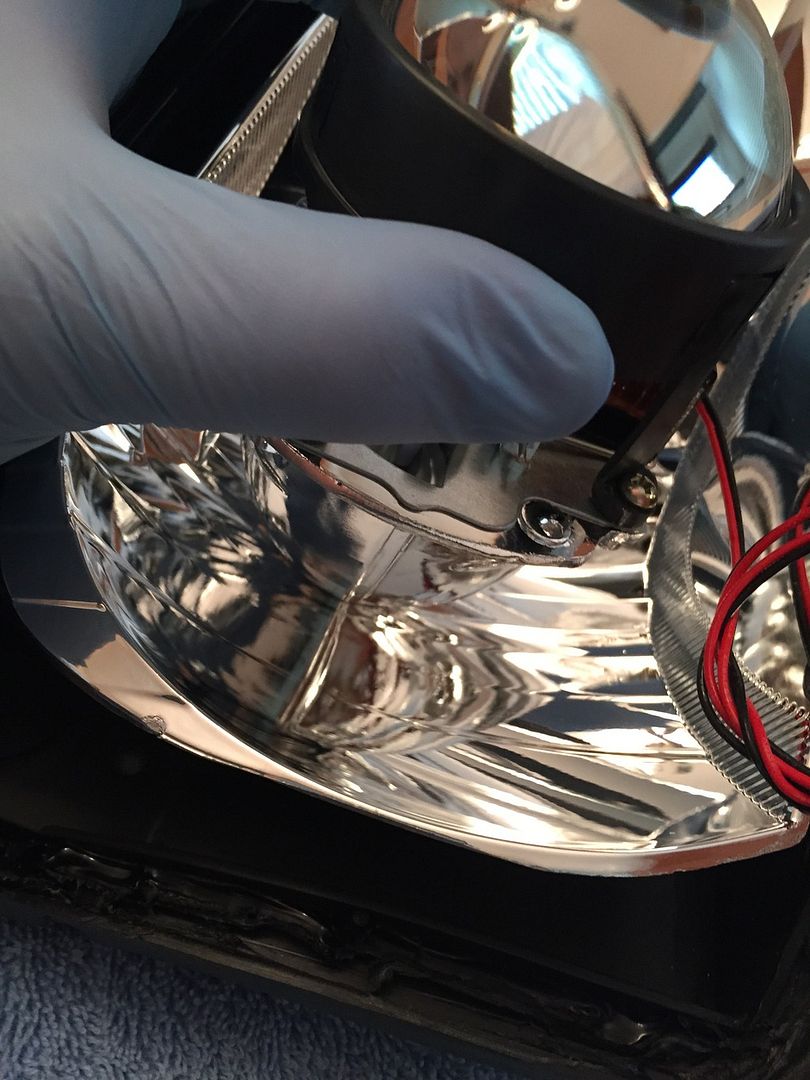 But as you can see there is not enough room to get the lock nut to work properly, so I had to do a little Dremeling. I Dremeled it out enough to get the lock nut to work.I also drilled a hole for the wires that operate the bi-xenon projectors.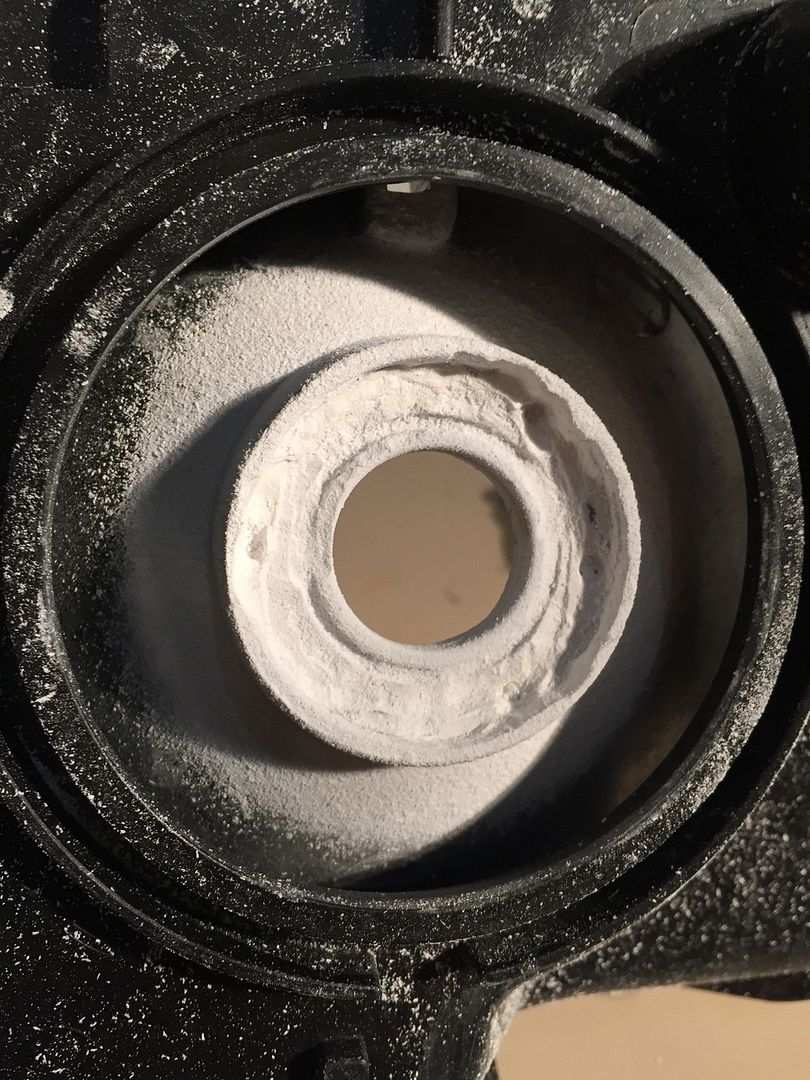 Here is where I ran into problems, and had to search all over for a walk trough
With the projectors easily installed (or so I thought) I decided to check to see if the lense went back on to the housing. Well of course it does not. The Projectors are way to deep to fit in the stock housing without doing some major modifications. I ended up having to dremel out even more, and make a larger hole. I made the largest hole possible so the projectors would sit back further.
As you can see below there is a major difference between the cheap ebay housing and the stock housing. The stock housing has more plastic, and an outer ring that would make the install much easier.
Ebay:
Stock Housing: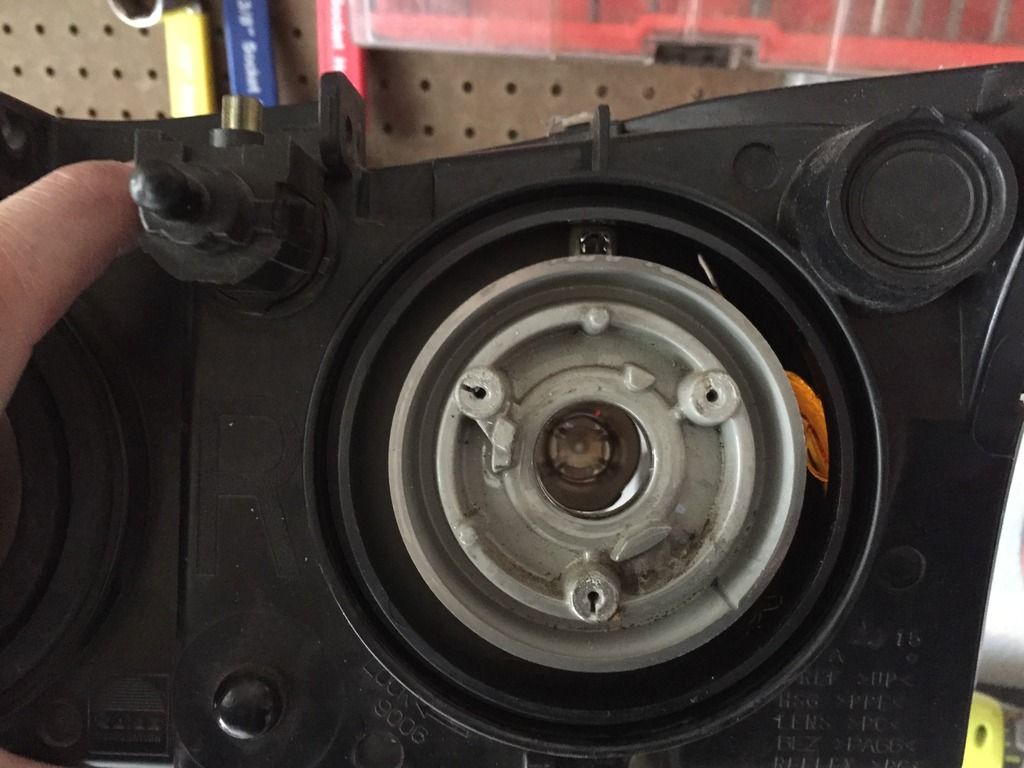 If you check out the other install link i shared you will see how that guy cut a larger hole in the back of his housing in order to get the projector to fit in deeper. But since his aftermarket lights were exactly the same in the back as the stock he was able to do this, but I could not. He also went to a hardware store and was able to find a pipe fitting that he used as a bracket for the projector. See below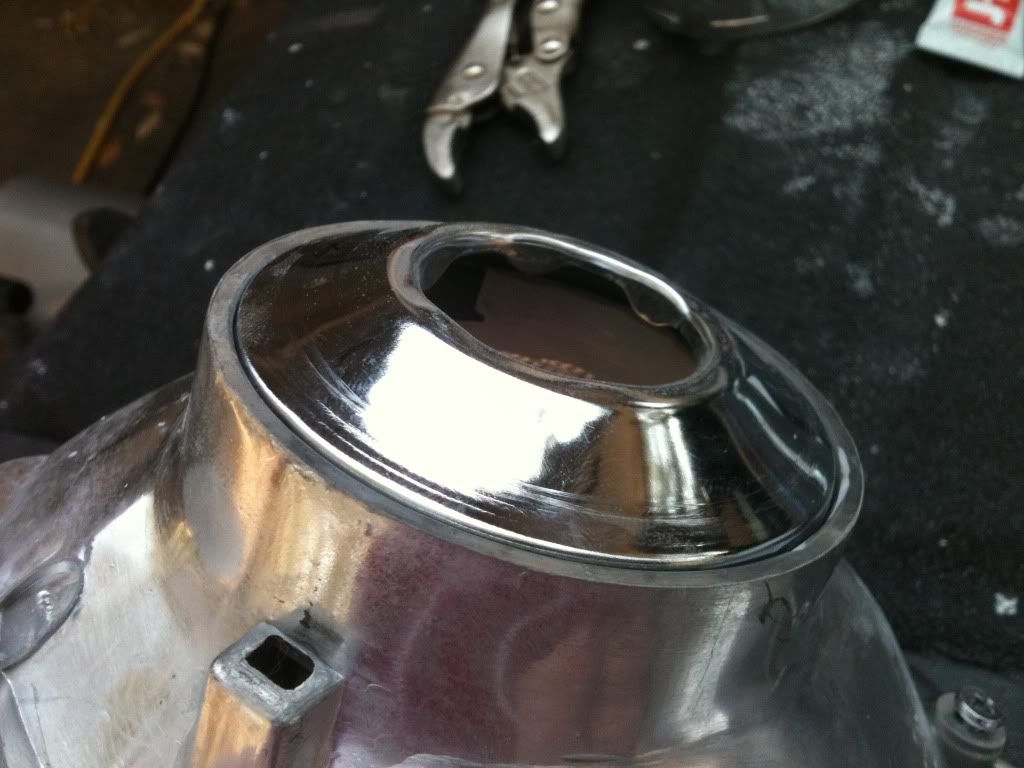 Since my headlights are different I was not able to make a custom bracket that would work. So I drilled out the hold as big as I could to fit the projector as far in as I could, and still be able to attach them.
I attached the projector shroud to the projector, and then I slid the projector into the hole, and used the rubber grommet that came with the kit to lick everything into place. Make sure that the projecttors are straight in the housing and tighten with the 27mm socket. you may be able to just tighten it with pliers but the socket seems to work better. Once you test it out you may have to turn the projector a little bit to make sure everything is straight.
It should look like this
I then put the lens back on to see if it fits. It did, but just barely. I ended up having to squeeze the lens very hard to get it back together. And this is why it is very important to not break the clips that attack the lens to the rest of the housing.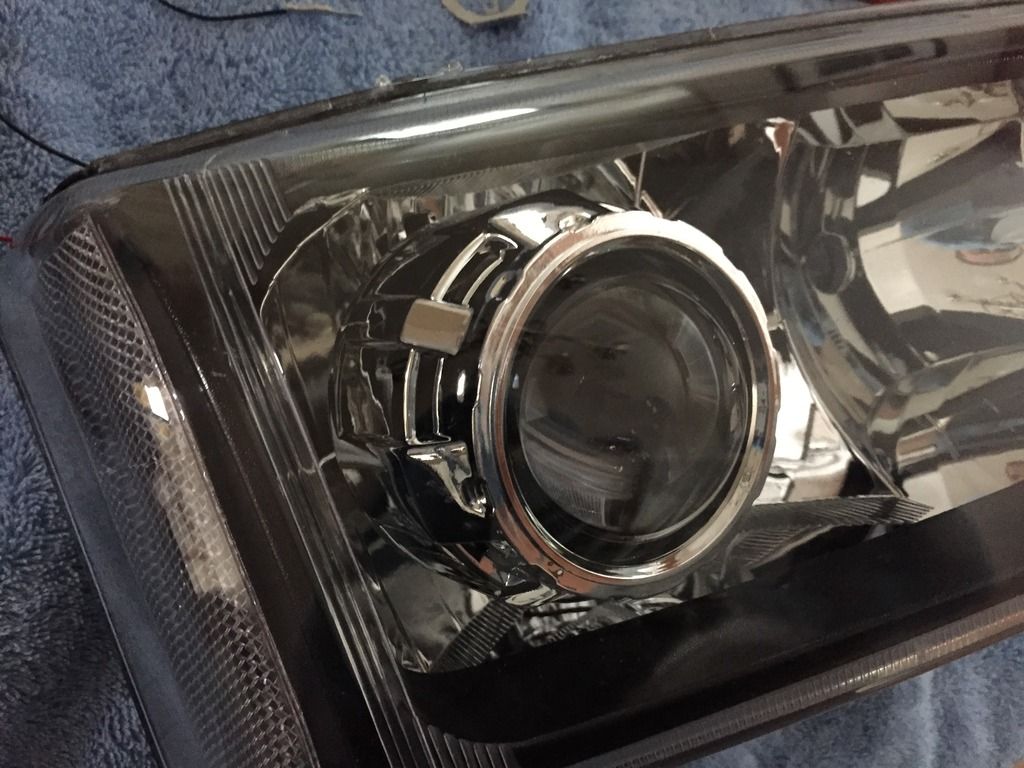 I then put the rest of the headlight together in order to test it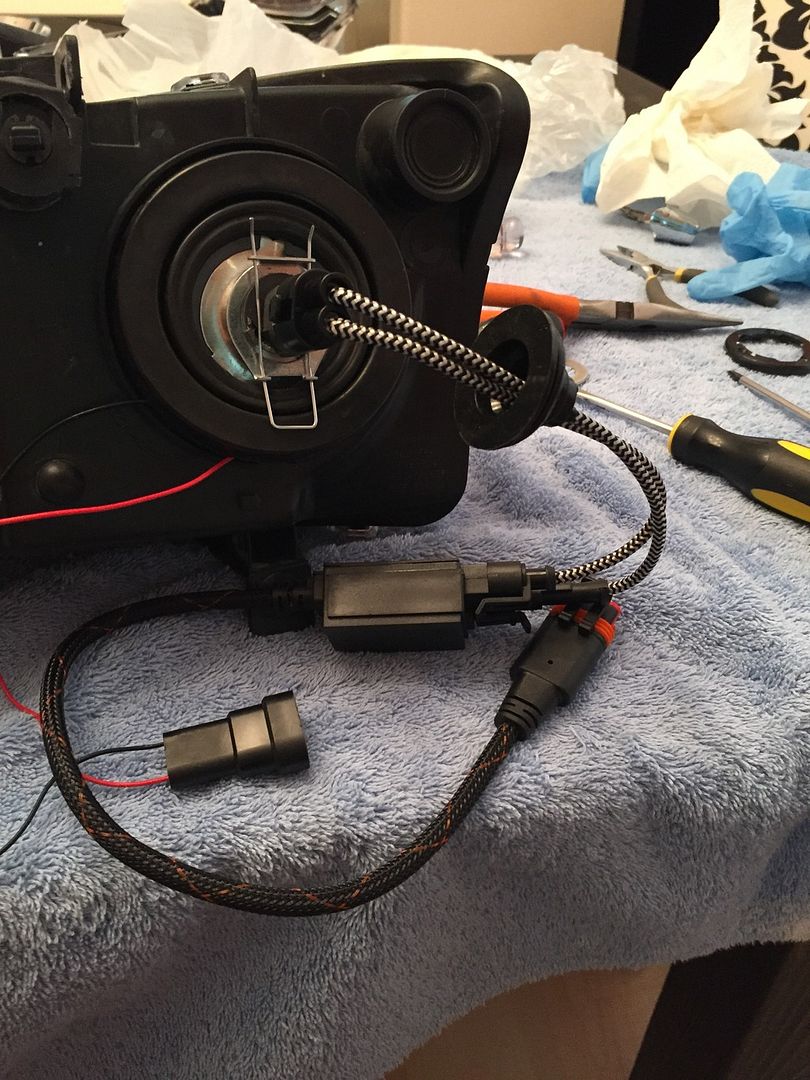 I then hooked up the HID kit to make sure it worked, and as you can see it did.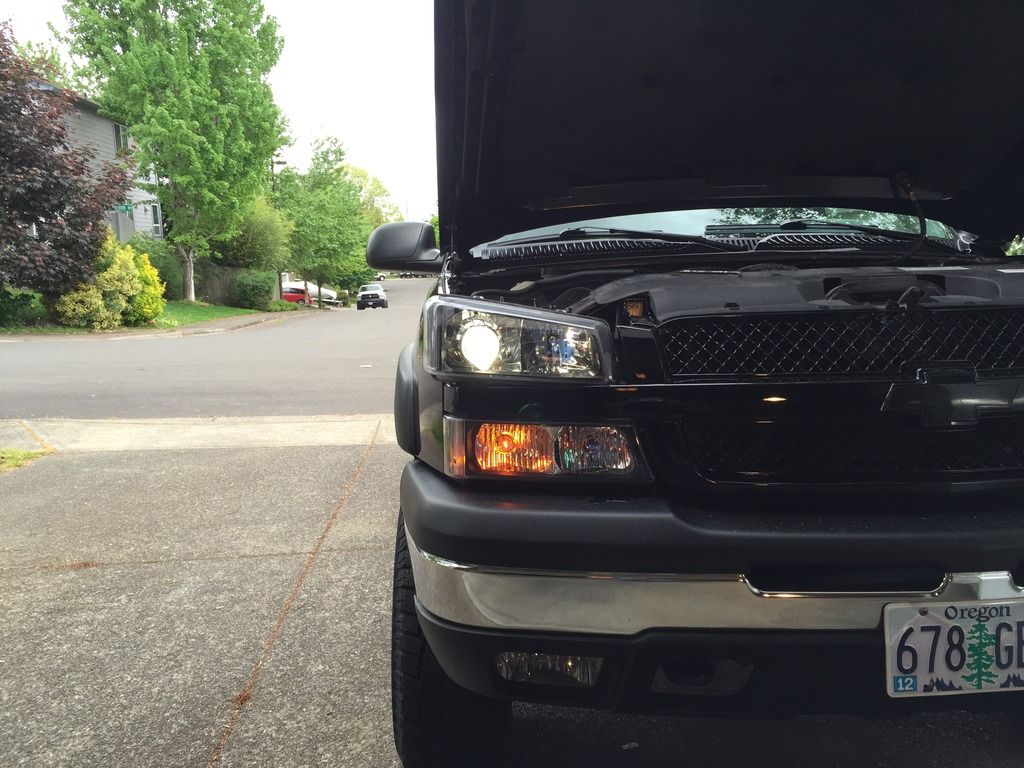 In order for the headlights to fit properly i had to dremel out the support bracket at bit. Then installed it back to to make sure it fit
Edited by diggerdan11, 17 May 2015 - 01:17 PM.